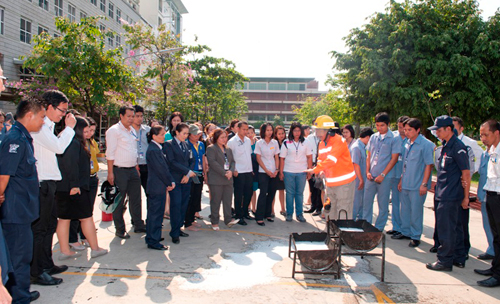 FREE Workshop – Including AED/CPR Training & ERT Team Training
On the 10th July, SGS will host a free lunch & safety workshop for the hospitality security and HR/ Training managers. This follows our hugely successful seminar earlier in the year and is a result of growing interest and demand for real safety and security training in Phuket.
This particular half day, interactive workshop, will include one of our most sought after courses – the Emergency First Responder Course – and introduces delegates to the use of AED's (Automated External Defibrillators). SGS instructors will lead participants through a hands on, guided and interactive demonstration allowing them to really immerse themselves in the training.
The afternoon will also include an introduction to our Emergency Response Team Training (ERT) again with instructor lead role play scenarios for the guests to participate in. The ERT programme is a hugely vital part of any hospitality organisation and embed real skills into the delegates, with ongoing drill sequences and role plays over a protracted period of the time, the programme delivers real quality and lasting skills.
The afternoon promises to be informative, educational and fun for all attendees and is limited to only 50 participants. Therefore, please reserve your seat as soon as possible to avoid disappointment as all guests must be registered to attend.
Please email training@sgsphuket.com for more info, or for reservations.
__________________________________________________________________
SCHEDULE
12.00               Registration
12.15               Lunch
13.00               Introduction to basic CPR and AED usage
                        Role play with various guests
                        Availability and costs of AED machines
13.30               Introduction to SGS System
Guards, Operations Managers, Internal Training and Back Up Support System
English Training and On Site Skills Training
14.00               Break
14.20               Introduction to Emergency Response Team Training
                        Role play with guests across all functions
                        Benefits of ERT vs Standard Fire / First Aid training
14.50               Questions
15.00               Close