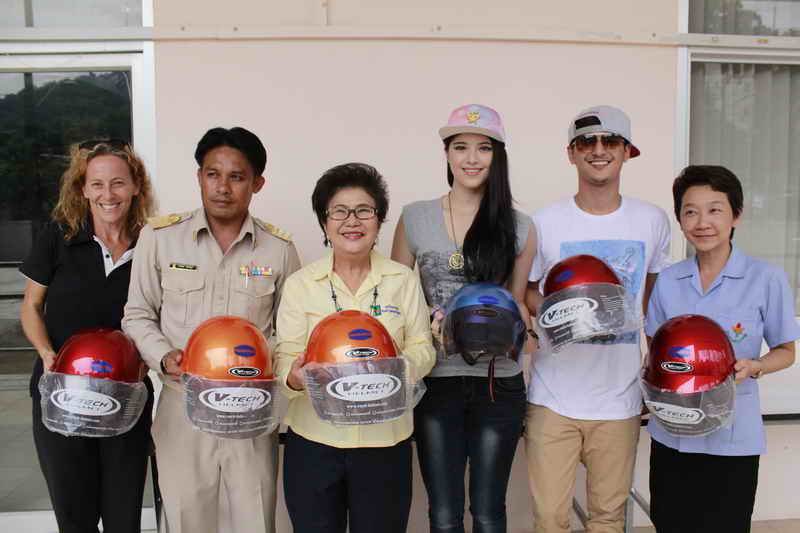 Our training center is very excited to announce the beginning of what we hope to be a long term safety project for Phuket. The launch of the Teen Road Safety Campaign, with workshops designed specifically for teenagers and new, young road users delivered by our very experienced safety instructor at any school, college or University on the island for free! Supported by Class Act Media with their helmet campaign and by the Phuket Community Foundation with their back light replacement project, the team can now combine their resources to make a powerful statement to Phuket youths – Their lives on the roads are a priority and they have the power to be safer.
The campaign kicked off at the Phuket Technical College on the 27th July with over 130 students kept attentive during the workshop with various fun safety awareness activities. To promote the event and engage the teenagers attention, Chinawut and Sophie Indracusin introduced the workshop and a brand new competition for the teenagers to enter
So if you have any staff with teenagers at your property, get them involved! There is 30,000 Baht in cash prizes to be won, and the competition is open to all Phuket youth.
For more info on this fantastic competition, click any of the following:
Or search Google with #phuketroadsafety
It could not have been done with out the support of our valuable sponsors – Class Act Media's Live 89.5fm and The Phuket News, The Phuket Community Foundation, and SW Consulting. The campaign is supported by the Royal Thai Police and the Phuket Health Department.
We were fortunate to also have the support from Twinpalms Phuket for hosting our Bangkok based Superstars and Nok Airways for flying them to us safely. We have also had the support from Radio Trip FM 89.75 for Thai media information and for Phuket Online marketing for social media support.
It has taken a large team to put this together and we hope to encourage more support for the continued success of the campaign.
To support and be involved email us at training@sgsphuket.com