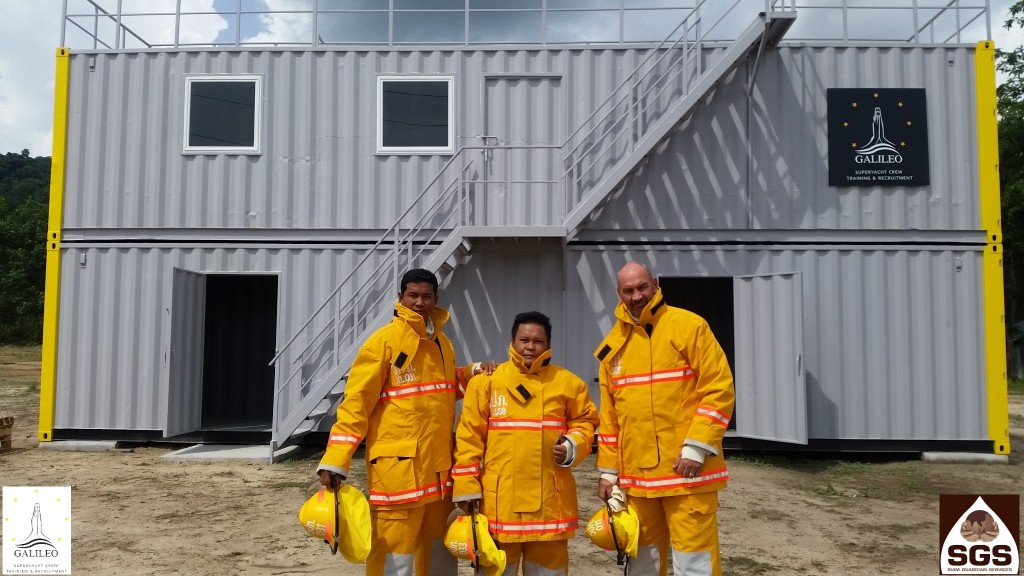 Thalang, Phuket, 14 May 2015
Galileo Maritime Crew Academy, providing world class training for luxury yacht crews, commissioned a customised MCA (Maritime & Coastguard Agency) standard Fire Fighting Facility to simulate actual conditions on board ships, giving their fire fighting & prevention course participants a realistic environment for their STCW (Standards of Training and Certification of Watchkeepers) training courses.
The facility is situated on the SGS Training Centre Base, in Thalang, where the two training schools will team together to provide the most comprehensive public Fire Fighting & Prevention training courses in Asia.
Recently the teams initiated the facility with a 3 day intensive Instructor Training and Development program with Mr. Paul Fear, the Maritime School Manager for the Devon & Somerset Fire Rescue Service.
Paul comments "Phuket is an ideal location for Asia based training courses, and for completing the MCA (Maritime & Coastguard Agency) required STCW Courses which allow successful students to legally work around the world on super yachts and luxury boats. The STCW will now be renewable every 5 years, and with the Galileo Fire Fighting course, large vessel crew & yachting crew members will no longer have to travel back to the UK to complete the refresher courses, with the facilities and training now available in Phuket."
Paul, with 27 years experience in the Fire Fighting & Training industry, currently works for the Fire Rescue Service in the UK and their commercial department, RedOne. His brief trip to Phuket was to ensure that the Galileo and SGS fire instructors are up to date with training and teaching practices, preparing them to pass intensive audit checks and provide the high quality training expected from international clients.
Barrie Buck, Managing Director of Siam Guardian Services, has always included professional training courses as an integral part of the SGS staff development, instilling valuable life skills for all of his employees. He now intends to put all of the SGS management team through the intensive fire fighting course over the next few months. Barrie states "The training not only teaches important safety skills, it keeps the team motivated and working well together, encouraging respect and responsibility for each other in the workplace. It is important to keep these skills current, and with the facility now on our property, the team will refresh their skills yearly in both fire fighting and First Aid"
Fire Management and Prevention is one of the many available safety courses available through the SGS Training Centre, and can be booked for groups or individuals at sgsphuket.com or training@sgsphuket.com
END
Sources for further information: